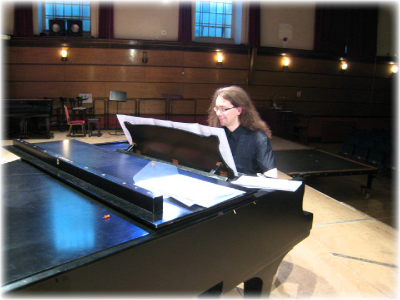 David Merriman is a London-based composer & lyricist, musical-director, accompanist and répétiteur. Originally from Swansea, David studied at St Catherine's College, Oxford (BA Music, 2010) and at the University of Bristol (MA Music: Composition, 2013). In addition to his freelance work, he is presently employed as a visiting lecturer in Music Theatre at the Royal Central School Of Speech And Drama and Birmingham School Of Acting.
His compositional output includes songs, choral music, chamber music, improvisatory 'game' pieces and music-theatre works. Groups that have workshopped his music include Ensemble ISIS, the BBC Singers, the Brodowski Quartet, Gemini Ensemble, Electric Voice Theatre and CoMA Bristol. He is an alumnus of YMT:UK's first Young Writers And Composers course, and his music-drama Strange Exiles was performed at the Cockpit Theatre in early 2014 as part of Second Movement's rough for opera initiative.
In 2015, David was commissioned by RCSSD to provide the music and lyrics for a new musical adaptation of Aristophanes' Lysistrata, in collaboration with book-writer Helen Watts, which was performed at the Embassy Theatre from the 12th-14th May.
As an MD, he has worked with organisations, companies and venues in London, Oxford, Bristol and Swansea. His credits include many varieties of musical theatre, from the core Anglo-American repertory to original and/or in-development fringe musicals. He also serves as the accompanist for Navadina Choir, Islington.